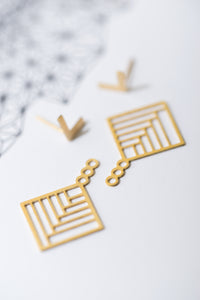 Geometric Jacket Earrings - Striped Rhombus
MIZYAN's geometric jacket earrings.

A very beautiful earrings, made of high quality matte 24k gold plating over brass base.

Prepare to be amazed by the trendy earrings that you can wear in multiple ways!
The ear jacket is a beautiful piece that clips onto the post from behind and hangs below the lobe.
The simple front studs can be worn every day, with or without the ear jacket.
With so many options these ear jackets can make a beautiful gift for anyone you care about, including yourself.